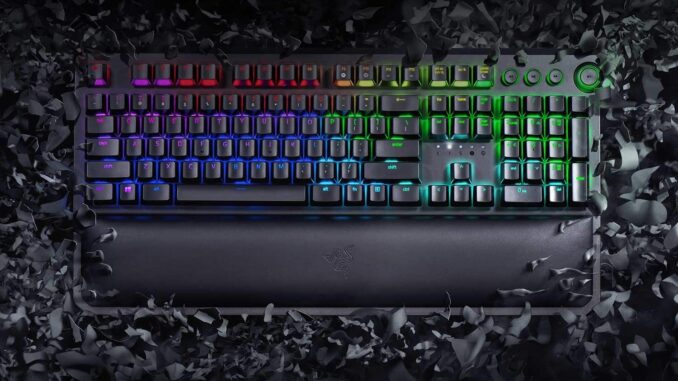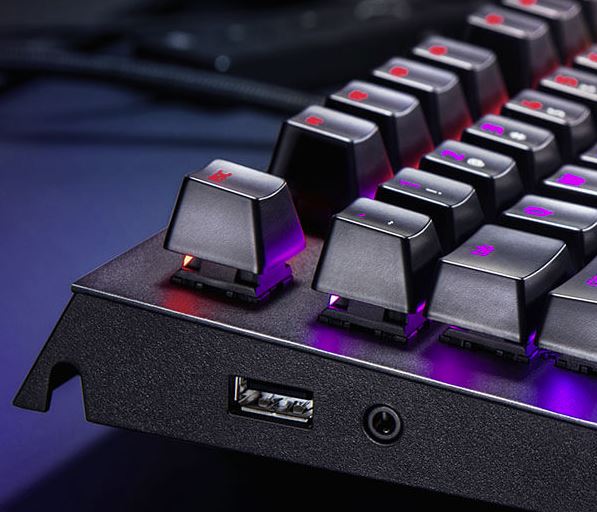 The Razer BlackWidow Elite full-size keyboard is a must-have if you are a gamer – with its soft, magnetic, comfortable wrist-rest and a selection of different mechanical switches you can fully adjust your experience!
Whether you slay monsters using your clicky keys or type up documents in silent, this keyboard will be right at home on your desk. It is especially amazing if you have other Chroma devices – you can sync up all the various devices to have the same colours or patterns, making it a truly customisable experience. 
The LEDs are vibrant and bright (brightness can be adjusted!). The keyboard includes a USB port and an audio jack on the side, for easier cable management. Another positive is the cable that connects the keyboard to the PC/laptop itself – it is nicely positioned at the back and sturdy.
The key caps are easily removable and replaceable if desired, also making the keyboard quick and easy to clean. At the top right of the keyboard, there are the function keys and a digital dial that can be programmed.  If this is out of your budget there are plenty of other LED keyboards available on Amazon.

Razer BlackWidow Elite
£130.82
Pros
Spectacular RGB lighting
Very comfortable wrist-rest included
Various mechanical switches to choose from
Sturdy key caps that can be replaced
Ability to sync with other Chroma devices
Cons
Quite expensive
Prone to having light issues (i.e. freezing)
Audio pass through can be flimsy