5 Second rule is a fun and quick fire game where you have 5 seconds to answer questions.  For each question you have to name three things and do this before the timer runs out for example:
3 things that can rip
3 things that are scary
3 things in the bathroom
3 thing you chew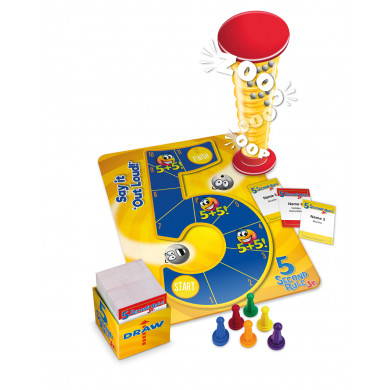 In the Box
400 Questions on 200 cards
6 Player Pawns
5 Second twist timer
1 Game Board
The game is suitable for ages 6 and up and you can choose for younger players to only have to give 2 answers to make the game slightly easier.  The youngest player goes first and players then move up the game board depending if they answer their questions correctly.  The board features special markers that can give you extra time to answer a question should you land on them.
You can not same the answer that some have previously used.  You can also play the game in teams.  This is a great game to play for all ages and everyone is most likely to come out with some silly answers! The game is currently ([be_published_modified_date]) on offer at Argos.