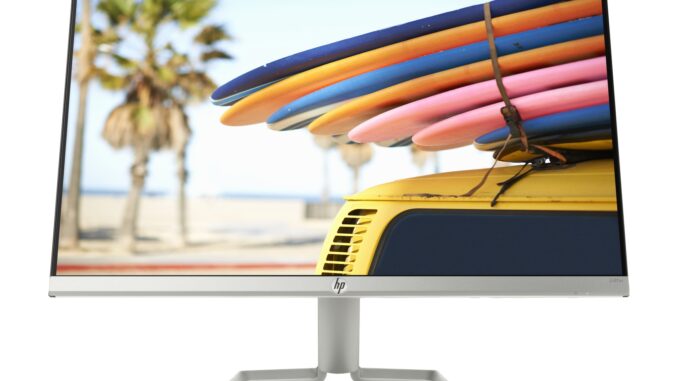 When looking around for a new monitor it was not long until I was drawn to the HP 24FW range.  This is most likely due to its eye-catching aluminum finish and ultra-slim design.   The bulk of the monitor is ultra-thin with the bottom section which houses the connectors still only measuring around 6cms at its deepest which bevels round.
The monitor is capable of displaying a full high definition picture of 1920 x 1028 using LED backlights.  It is extremely comfortable to use for long periods of time and has an impressive viewing angle range.

Tech Specs 
60.45 cm (23.8″) diagonal Full-HD IPS micro-edge display
Anti-glare; LED backlights; AMD FreeSync™
Full-HD (1920 x 1080 @ 60 Hz)
1 HDMI 1.4 (with HDCP support, cable included); 1 VGA (cable not included) 
2 year warranty
Power cable with small power pack
Documentation
HDMI cable
Power adapter
CD
My favourite feature of the HP 24fw display is the extremely thin bezel giving it an edge-to-edge design.  The largest part of the bezel is situated at the bottom of the screen and has the HP logo in the centre along with the model number on the right-hand side.
Overall this is a fantastic high-quality stylish monitor that not only delivers on aesthetics but also on picture quality and is a great choice for either at home or in the office.